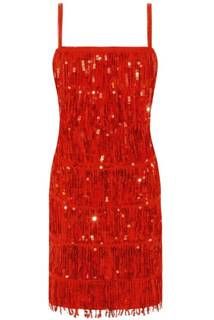 Hi Girlies, So as I mentioned on Thursday, (see
here
) i'm really excited to announce the beginning of my 12 days of Christmas with FashionChampagne. To kick off all the festivities, I have teamed up with
TheFashionBloggers
to offer you - keeping with the Christmas theme - a gorge red dress.
The dress is a S/M so will fit a size 8-12.
TheFashionBloggers
provide regular updates on fashion, culture, urban life and foreign fields, soooo go and check it out -
here
.
All you have to do to enter is:
Be a follower of FashionChampagne on Google Reader - on the left hand side of this post - If you already follow there, then follow on Facebook - here
Leave you contact info in the comment section to let me know where you follow.
Open to anyone, anywhere in the world!
Et Voila
The competition will end on 15th Dec, so make sure you get your entries in to be in with a chance of winning - GOOD LUCK
Hugs & Kisses
xoxoxoxoxox