I definitely agree with the thinking that a pair of
sunglasses
can totally transform your look. However it is pretty important to find the correct shape and shade for your face and colouring otherwise the look transformation won't be such a good thing. Having said that - my sunglasses mantra at the moment is the bigger the better.
If you don't live by my mantra , here are some simple tips to follow when choosing some sunnies.
1. Face shape - pay attention to what styles suit a round shaped face or a heart shaped face etc. As I have quite a chubby face (nick named hamster cheeks) I steer clear of anything small framed.
2. The Style - I like to splurge on sunglasses once a year, but I make sure that I choose quite classic styles,so that I can use them for years to come.
3. Colour - Always pay attention to colour. As I said before, I quite like classic shapes and that goes for my colour choices too. Black and brown are about as experimental as I will get. I tried pastel coloured sunnies last year and I looked absolutely ridiculous.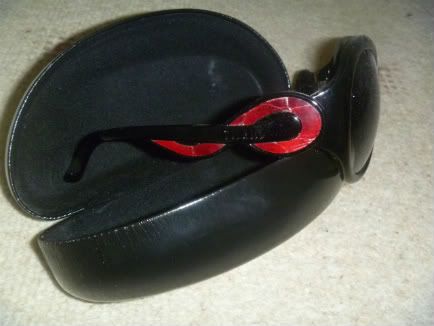 Hugs & Kisses
xoxoxoxoxox