With the Queen's jubilee just around the corner, this summer is the perfect time to celebrate being British. We've got an extra bank holiday to mark the occasion and the weather is sunny (fingers crossed it holds out!), so there'll typically British activities going on all throughout the country in the next few weeks.
If you want to get really patriotic, I've put together three looks that showcase how you can make the most of all our fantastic, home-gown fashion designers, whatever you've got planned this Jubilee weekend. national anthem singing is entirely optional.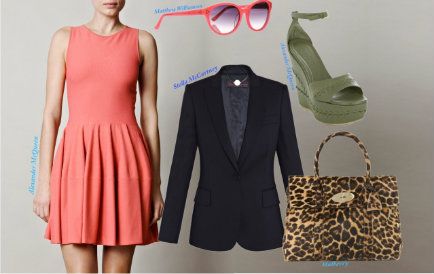 Bunting, picnic tables and buffet food - is there a more British way to celebrate than a good, old-fashioned garden or street party? Teaming a casual
Alexander McQueen
skater dress in this season's hottest colour - coral - with sharp tailoring in the form of this Stella McCartney blazer will keep you weather appropriate no matter what the British summertime decides to throw at us (just add some black tights if it's chilly!). Finish the look with matching sunglasses and contrasting wedges - so your heels don't sink into your neighbour's immaculate lawn - and add edge with this leopard print bag by Mulberry.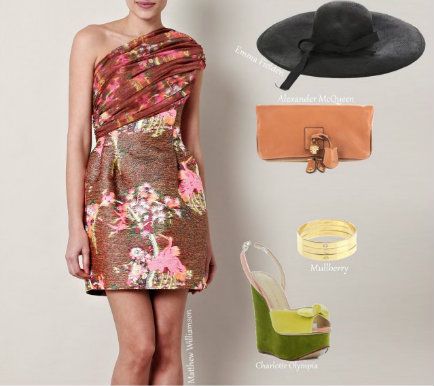 The Queen is heading to Epsom Derby on June 2nd, and if you're lucky enough to be going too - or if you're going to any racing event over the summer - this Matthew Williamson number is just what you need. The neon print is sophisticated but cool, and teaming it with quirky shoes and a neutral bag and jewellery will ensure you stand out from the rest of the crowd at the racetrack - don't forget the obligatory hat!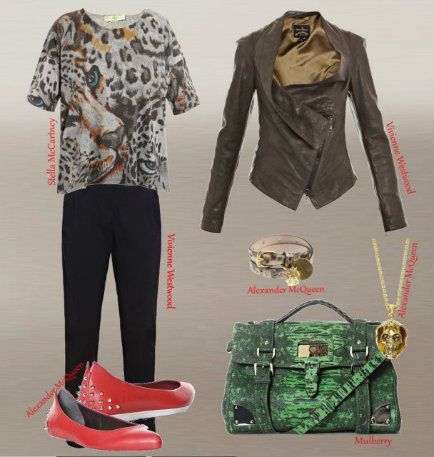 So it might not be a typical British activity, but I defy anyone to think about the Queen's jubilee without thinking about the Sex Pistol's anthem "God Save The Queen" and the punk movement of the 70's. If you'd like to channel your inner Siouxsie Sioux over the bank holiday weekend, there's no better way to do it that in lots of Vivienne Westwood! I've opted for an unusual leather jacket and twisted hem trousers, and added an oversized animal print tee-shirt. Layer up the jewellery - the more skulls the better - and add some studded pumps (all over the high - street this season but staying true to the British theme I've opted for McQueen). Finally this Lizard print Mulberry bag finishes the look off perfectly.
Liberty-Belle Howard is a freelance writer and blogger currently writing on behalf of Matches fashion. You can read more from her at her
fashion blog
.