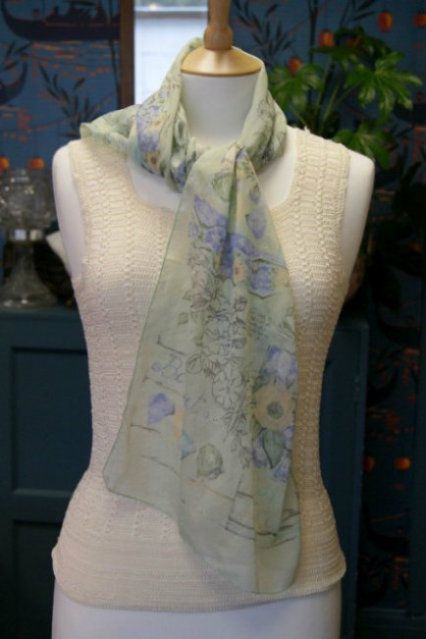 A vintage scarf is a quick, easy and inexpensive way to update any outfit. Even your favourite items from last season can be instantly granted a new lease of life with the addition of a statement vintage scarf. Instead of investing in a whole new outfit, focus on smaller pieces to freshen up your style: a scarf is versatile and can be worn in a number of ways. Team this with a pair of shoes that will complement your look, and you're good to go! Avenue 32 shoes provide a great choice of flats, heels and sandals in colours and styles that can be matched to your scarf.

Vintage scarves can be picked up easily from charity and thrift stores, as well as dedicated retro clothing outlets. Just because your scarf is a traditional item, however, doesn't mean you have to wear it in a traditional way. There are many ways to show off your style credentials with a vintage scarf, to suit any taste or occasion.

Thin, silk scarves are often the easiest to style into an outfit. Rather than wearing around your neck, choose a narrow number in an eye-catching colour or pattern and wear on the head, bandana-style. Pull hair into a sleek low ponytail or bun and tie your scarf around the hairline, covering the ears and tying at the nape of the neck. This is a great look for summer festivals and an ideal way of disguising unwashed hair!

In a more formal setting, a vintage scarf can add a pop of colour to your work outfit and brighten up any dark-toned suit. A chiffon scarf works well for this look, adding a light and feminine touch to masculine tailoring and work wear. Simply tie around the neck and fasten in a bow. Light, pastel hues provide a particularly striking contrast to navy or black suits and can be matched with your favourite Avenue 32 clothing and shoes!

A wider and thicker vintage scarf is a fab alternative to a cardigan or bolero. Wearing a scarf in this way is perfect for completing a wedding or party outfit. A patterned vintage scarf with textural detail, like ruffles or fringing can be draped around the shoulders to add style and warmth. If you opt for detailing, you should keep the shape and style of your dress simple: a shift is a failsafe option for weddings and formal events.

Instead of splashing out on a whole outfit, update your classics with a vintage scarf. Worn in multiple ways, these can be matched with shoes and accessories to revive any attire.