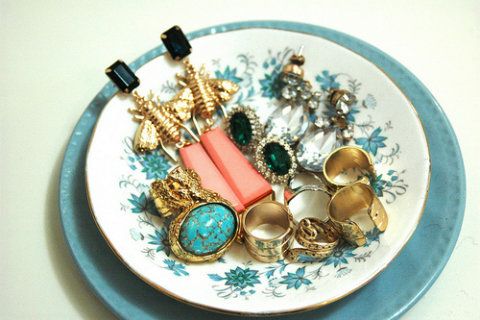 It always happens when you're rushing around in the morning, or late for an evening out, you can never find the necklace you want to wear. Ensuring our jewellery is exactly where we left it is the best way to get out the door, but too often everything gets thrown in a drawer or randomly in a box. Finding the most organised ways to keep our jewellery and handbags safe and sorted is one of the quickest ways to avoid a stressful start to the day. Here are some top tips:
Jewellery Storage
Choosing a suitable container is key. At the top end are bespoke jewellery trays (felt covered, multi-compartment inserts that are custom sized to fit your drawers), but most of us will probably need to be a bit more DIY - recycled tea cups and wine glasses make great places to sort and store earrings.
A small storage box from the hardware shop can be useful too.
Make sure to clean your jewellery before storing - hair spray, perfume and perspiration may damage of cause your gold, silver or metal items to dull.
To prevent kinks, necklaces should lay flat and straight if not hung during storage (Tip: string a pearl necklace across your dresser to hang earring across).
Sterling silver jewellery tends to tarnish easily - store it in an airtight container or zip lock bag to prevent this happening (you can also use anti-tarnish strips or silica gel).
Handbag Storage
One of the best ways to store handbags is to put them in plastic boxes to allow air to circulate. just make sure the boxes are big enough so that you don't fold over the bag handles.
The handbags you use regularly need to be easily accessible, so store them on the top or side shelf in your closet, standing upright in a line. You can organise them by size, type or colour.
Purses you don't use often can be wrapped in cotton pillowcases or cloth bags before putting them into storage. Do not put them in enclosed plastic dry cleaning bags, or boxes without airflow as this will damage the leather.
If storing bags together, make sure you cover any brass or metal chains, rings and studs to stop them marking other bags. You can do this with a piece of tissue or cloth. Tuck chain handles inside the bag to prevent the chain from scratching or marking the o outside leather. Undo metal fastenings and buckles on straps so that they don't leave an impression.
To help them keep their shape, stuff the bags with tissue paper or any alternative acid-free filling, but do not use old newspapers. Bubble wrap is better than tissue paper for padding out or wrapping bags, as it doesn't attract moths in the same way as tissue paper.
Drew writes for Big Yellow Self Storage. Big Yellow provides a range of
storage solutions
including wardrobe sized units perfect for storing special items and handbags. For more information and tips see their
website
.