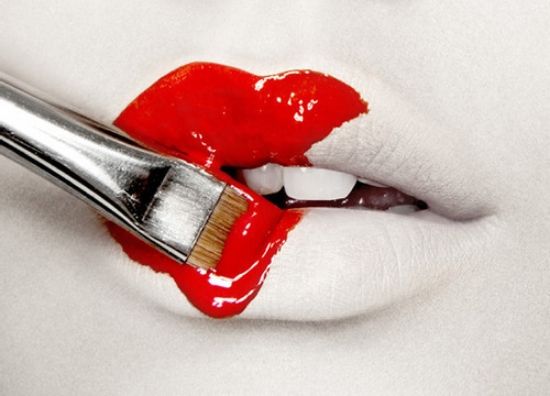 While the weather mat not be giving us any cause for springtime cheer, there's one place we can well and truly embrace the coming season - in our make up bags. The fashion pages have gone wild with uplifting new trends, while the catwalks are leading the way with surprisingly wearable colours and textures. But it all comes down to this: we see a perfectly good excuse to stock up our makeup bags with exciting new products, we take it.
So what's hot for spring/summer 2013? Here's the run-through and some tips:
All shades of red on lips
This may be a classic, but it's well and truly in for spring. It needn't be pillar-box red (although
the models on Jean Paul Gaultier's SS catwalks
made it look so easy) - a pinkish red a la Oscar de la Renta and Missoni will look softer but work just as well. The darker you go, the more important lipliner becomes to keep your lip shade defined and perfect. Buy a shade that is the closest match to your lipstick you can find.
Cara Delevingne shapes our brows
The model has now become
the face of YSL's New baby Doll Collection
, giving us all even more opportunities to feel the brown envy. But don't let the green-eyed monster consume you, just reach for one of the fantastic brow-enhancing products that are out there now. Opt for a brow pencil, sharpened to the max and used to add fullness with tiny, feathered strokes, or choose a powder for a bold wash of colour that'll thicken and define any brow.
Golden days
Whether giving a luxurious wash of colour on eyes, bringing life to cheeks or giving pouts a hint of precious metal, gold was a big part of the makeup looks at Missoni and DKNY's spring/summer shows, and it's the perfect way to dress up a simple daytime look. You can get gorgeous gold shades in
eyeshadow palettes like the ones you'll find here from Debenhams
, which you could apply to highlight temples, your cupids bow or even your collarbone, as well as using them to open up your eyes.
xx