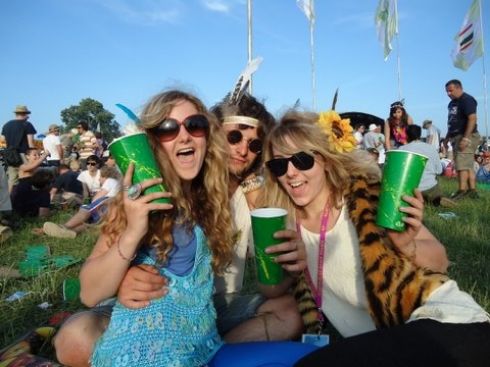 Glastonbury is, without a doubt, the biggest and most highly rated event in the British festival calendar. It's come a long way since starting in 1970 – it was tiny, lasted for two days and cost just £1 to get in, which included free milk from the local farm! Now tickets sell out within a day to thousands of music lovers, before the line-up is even announced.
If you were lucky enough to get a ticket for this year's Glastonbury Festival, your wristband also doubles up as a pass to a fashion show. It's the best opportunity this summer to show off your inner fashionista alongside the VIPs. Kate Moss will definitely be there, wannabe Z-list celebrities will probably be there too, as well as reporters from Heat magazine who will have an absolute field day.
With the British weather being as unpredictable as Lady Gaga's next outfit, you need to be prepared for all extremes. It'll probably be blisteringly hot, chucking it down with rain and snowing while you're there for the weekend. So try to cover all bases.
Firstly, make sure you've got a waterproof jacket with you for the likely rain. You'll also need a good pair of wellies as Glastonbury is renowned for its mud mayhem with just a drop of rain. Let's be more optimistic and look at what you'll need for the sunnier days too: the essentials are a hat, sunglasses and flip flops or wedges. Basic clothes to pack include t-shirts, vests, shorts and skirts.
London Fashion Week AW13 earlier this year showed us that glam grunge and punk is where it's at. So take inspiration from the catwalk and give your credit card a beating by stocking up on the key trends.
A denim jacket with studs fits the look and will keep you warm when the temperature drops at night. If you're careful with the colour of the washes, (match light with dark) you can team your denim jacket with high-waisted jeans as believe it or not, double denim is back. Cropped tops will look fab with skater skirts, or so says Rihanna whose collection featured numerous cropped tops in bright colours such as hot pink.
Other
fashion items
to stock up on include military wear, maxi dresses and playsuits. Colours to go for are neon, metallic and monochrome or if you're a print lover, stripes, polka dot and animal print will be popular.
[Glastonbury girls photo credit: http://www.flickr.com/ brothers_cider]